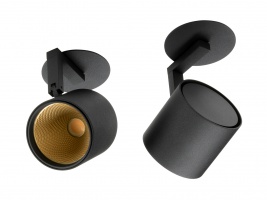 TUBB S80
The TUBB S80 is a semi-recessed rotable spot placed on a plate with a diameter of 80mm
The tube, with a diameter of about 80mm and a length of 80mm, is 359° rotatable and 80° inclinable.
It is placed on a plate with a diameter of 80mm, available with torsion and flat springs.
Aluminium luminaire, available in different colors. Standard equipped with torsion springs.
download tech. spec.